S&P 500 futures inch lower after Tuesday's tech-fueled rally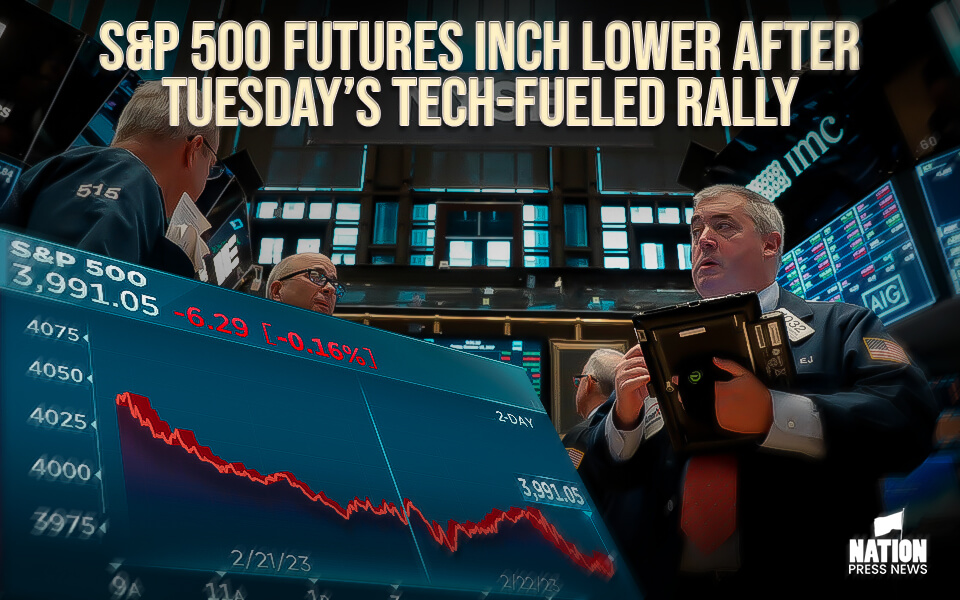 The U.S. stock market futures showed a small decline on Tuesday night. The futures contracts for the S&P 500, which represents a broad range of large companies, dropped by 0.19%, while the Nasdaq 100 futures, which track the performance of technology-focused companies, decreased by 0.39%.
On the other hand, the futures for the Dow Jones Industrial Average, a popular index of 30 large publicly traded companies, remained relatively unchanged.
During the trading session on Tuesday, the Dow Jones Industrial Average ended a seven-day losing streak and closed 0.63% higher.
This positive movement was mirrored by the S&P 500 and the Nasdaq Composite, which both rose by more than 1%.
The surge in the technology sector contributed to the gains, as tech stocks rebounded from a recent selloff.
Investors have been optimistic about the prospects of artificial intelligence, leading to a strong performance in mega-cap tech stocks.
As a result, the Nasdaq has had its best first half in 40 years, with a remarkable 29% increase, while the S&P 500 has risen by 14% this year.
Jeff deGraaf, the chairman at Renaissance Macro Research, described the market as displaying a trend of higher highs and higher lows, indicating a positive trend.
He highlighted the leadership of sectors like technology and industrials as encouraging signs of a bull market.
Attention turned to Federal Reserve Chairman Jerome Powell, who was scheduled to speak at the European Central Bank Forum on Central Banking in Portugal.
Investors awaited further insights from Powell regarding the future economic policies of the United States.
Powell had previously mentioned the likelihood of interest rate increases to combat inflation but suggested a more gradual pace.
China's industrial firms reported an 18.8% decline in profits for the first five months of 2023 compared to the previous year, as per official data.
Australia's inflation rate for May came in lower than expected, easing concerns about rising prices.
U.S. stock market futures saw a small decrease on Tuesday night, following a positive trading session earlier in the day. Investors were focused on upcoming remarks from the Federal Reserve Chairman and developments in global markets.
- Published By Team Nation Press News