Oil Falls as Fading War Premium Revives Angst Over Rates, Growth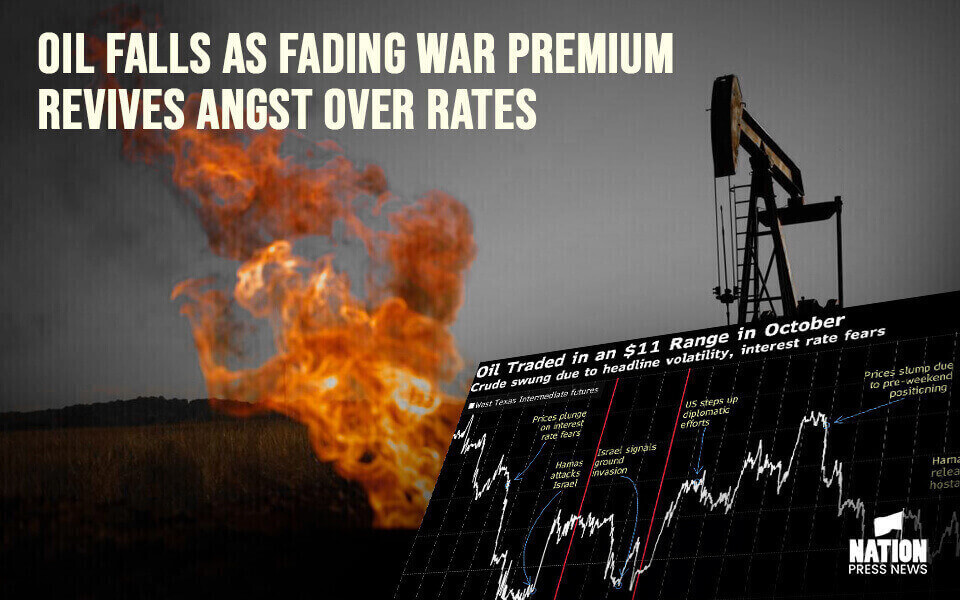 West Texas Intermediate slipped 1.6% to almost $81 a barrel after Hamas assured mediators it would release foreign detainees in the coming days, easing concerns about the spread of the conflict and impeding Middle Eastern crude exports. Oil has now fallen below pre-war levels, with the lowest settlement price since August 28.
Oil's recent decline "continues to point to market expectations of a localized conflict," according to Dan Ghali, a commodity strategist at TD Securities. According to a bank examination of geopolitical risk events, the premium associated with a war "tends to fade as soon as one month following the onset of the conflict."
Crude has experienced a volatile October, with prices fluctuating around $11. Oil began the month with a sharp drop on fears of a protracted period of hawkish monetary policy, aided by algorithmic trading. Then, on Oct. 7, a Hamas attack in Israel sent prices soaring on the prospect of disruptions in the region that accounts for one-third of world flows.
With fears of contagion from the war receding, economic concerns have taken center stage, driving Brent and WTI to their first monthly drops since May.
In recent days, signs of weak demand have emerged, with Chinese manufacturing contracting again this month and BP Plc reporting that gasoline and diesel markets are oversupplied.
A decrease in WTI's prompt spread (the difference between its two nearest contracts) indicates that near-term conditions are loosening. The widely followed gap has shrunk back to 50 cents per barrel in backwardation, from almost $2 at the end of September.
- Published By Team Nation Press News