Litecoin Surges as Bitcoin Crosses $27,000, Outperforming Top 10 Cryptocurrencies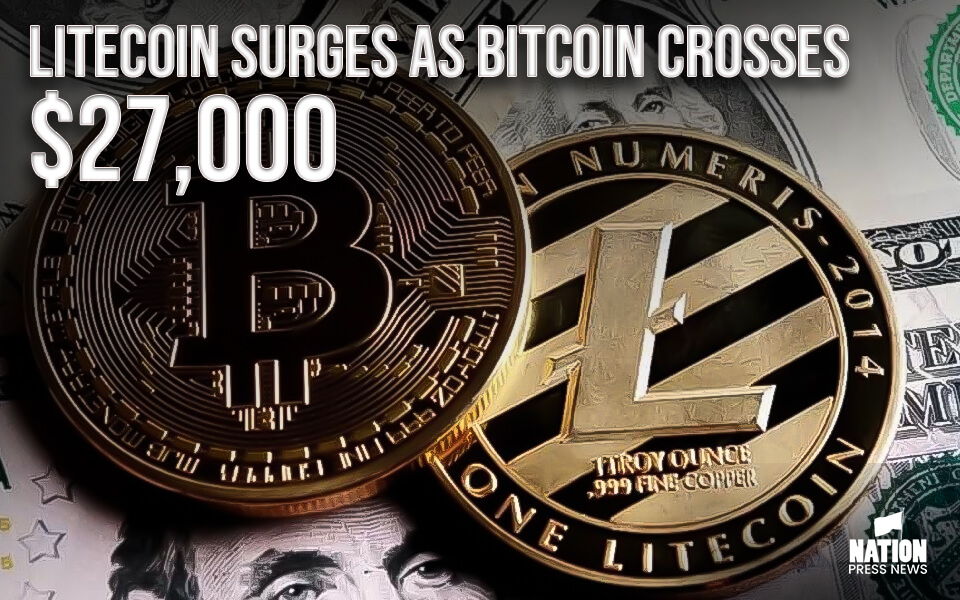 Bitcoin and Ether, the two popular cryptocurrencies scored in Friday afternoon trade in Asia along with all the other top 10 non-stablecoin cryptocurrencies. It followed achievable negotiations on uplifting the U.S. debt ceiling that injected some optimism into markets. Litecoin was the biggest gainer in the following 24 hours.
Bitcoin gains: First Digital issues new stablecoin
According to CoinMarket data, Bitcoin, the world's largest cryptocurrency, rose 1.08% to US$27,076 within 24 hours, by 4 p.m. in Hong Kong, bringing its weekly gains to 2.08%.
Ether, the second-largest cryptocurrency in the world, gained 1.78% to reach US$1,886 in 24 hours, after rising 3.85% in its previous week.
Litecoin was the biggest gainer among the top 10 cryptos, climbing 2.25% to US$94.48 in 24 hours and strengthening 8.35% through the week. It inclined toward stronger buying support from its third halving event and is set for August 02, when the supply of tokens would reduce.
A blockchain data tracker called IntoTheBlock reports that Litecoin saw a rise in on-chain activity in May. Compared to 7.09 million addresses at the end of March, there were Litecoin addresses with a balance of approximately 8.5 million by the end of the month.
The overall market capitalization of the cryptocurrency market increased by 1.21% to US$1.14 trillion. The total number of cryptocurrencies exchanged in the previous 24 hours fell to US$29.94 billion, a 5.75% fall.
First Digital, a Hong Kong-based consultancy, introduced First Digital USD (FDUSD), a new stablecoin, on June 1. This happened the same time when Hong Kong's new licensing system for companies that offer virtual asset services went into effect.
The FDUSD currency, produced by FD121 Limited, a trusted corporate subsidiary doing business as First Digital Labs, intends to be tied 1:1 to the US dollar. According to its official statement, the stablecoin's backing would consist of one US dollar or an equivalent asset held in accounts of regulated financial institutions in Asia.
- Published By Team Nation Press News